Okay, I promise this will be my last post regarding my Puerto Galera trip. :) I'll just continue my story where I left off. Because of the rain, Penny, Steve and Charline decided to go back to our room and take their baths (syempre di sabay-sabay) so that we can eat afterwards. Nag-stay pa kami nila Janice and Mands. While swimming we saw some Koreans na nag-rent ng flyfish. It's a new water sport and di pa rin alam nila Janice and Mands how it goes kaya pinanood namin yung Koreans. Parang ang saya nung nakita namin kasi di sya gaya ng banana boat na tumataob. Parang lumilipad lang yung flyfish..thus the name. Isip namin di sya nakakapagod like the banana boat...or so we thought.

Di na din kami nagtagal sa water. Umahon na rin kami para maligo kasi napag-usapan na na after ligo magpapa-henna tattoo kami then dinner.

Look at my tattoo. Ok ba? I really wanted to get a tattoo at my lower back. Yung real tattoo ha. Pero not that big like that one. Small lang tas heart din. Like Rachel in Friends. Yung henna tatto we had to wait for two hours para matuyo sya. After two hours pwede na i-scrape yung henna and voila...may tattoo na kami! Steve got a dragon in his arm na he later on named as Puffy hehe, Janice had a dolphin on her right shoulder, Mands got a yin-yang on his forearm, Penny got a butterfly on her batok (not in picture), and si Charline got two butterflies one on her shoulder and one on her lower back.

Here we are enjoying our Mindoro Sling. Lakas tama ha! Isang pitsel lang ata nainom namin dahil lahat takot malasing. Super sarap ng inihaw na liempo! Si Steve naka-3 order ata tas 4 na rice hehe. After dinner nagkawalaan pa kami sa beach hahaha. Kasi naman Steve, Charline and I went back to our room tas the other three went to the beach to lie down. Pagbalik namin si beach di namin sila makita! Pabalik balik kaming tatlo. Until finally napagod na kami sa paghahanap at bumalik na sa room buti na lang andon na rin yung 3. Aga namin natulog. 12midnight palang kasi nasa room na kami at antokers na lahat. Pero aga din naman kami nagising mga 630 palang gising na kami. Pagkagising we went straight to the beach to swim. Another pic of me with my tattoo. Pinagkatuwaan nila ko kaya ganyan pa yung pose ko.

Our just-out-of-the-bed look! Hahahaha mga di pa naliligo sumugod na sa beach!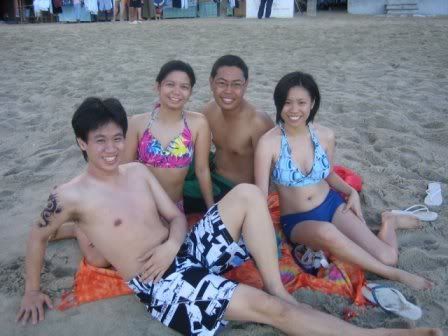 When we saw our water sports agent, Michael (hahaha I just call him our agent kasi sya yung manong na nag-alok sa min ng boat at banana boat ride), we asked him kung pwede na kami mag-flyfish. We told the others what we saw the day before so excited na rin sila. Ang aga namin andon sa rentahan kay nag-intay pa tuloy kami. So picture picture muna while waiting.
Obvious bang walang magawa sa oras. Pati yung tractor pinagtrip-an hehehe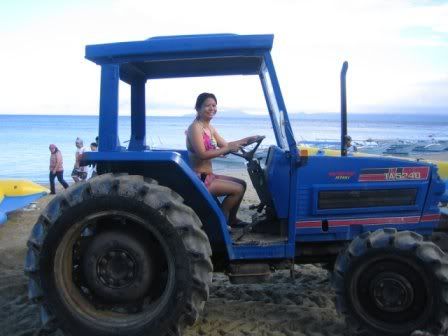 Okay finally sumakay na kami sa flyfish! Look at our happy faces. All of us excited for the ride.

Tanong kami kung bumabaligtad din ba yon like the banana boat. Hindi naman daw pero once na may bumitaw sa magkabilang gilid (read: me, Charline, Steve or Mands) dapat bitiw na lahat dahil ma-imbalance na yung flyfish. So ang motto namin for that moment: WALANG BIBITAW! Sabi ko pa engot ang bibitaw ha. Naisip ko during the ride na sana di ko na lang sinabi yon.

One last wave for the cameras. Yan na ata ang huling ngiti namin sa pagsakay sa flyfish hahaha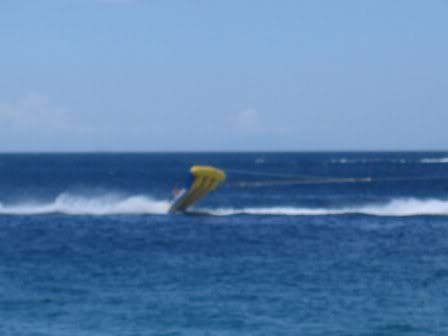 OMG! Hayup na water sports yan! Look at that flyfish! Can you imagine how we were holding on to that f*cking flyfish! Grabedad! Sigawan kami ng sigawan. Wala maglakas ng loob bumitaw dahil ang bilis ng takbo and for sure ang sakit sa katawan pagbagsak sa tubig. Ako naman I was also thinking na ayoko maging engot (because of what I said previously hahahaha). Nakakapagod kumapit ha! As in! Hay naku nakakatawa kami! Si Steve who was behind me nagrereklamo na na ang bigat daw ng pwet ko. Pano naman nags-slide down ako sa kanya so yung butt ko nasa may kamay na nya hahaha. Can you just imagine! So for the next 3 tries nilalagay na nya yung kamay nya sa waist ko. Sa mga sumunod nga ang yabang na namin na kaya na pala namin pero pag bumibilis na naman sigawan na naman kami. Si Janice who was in front of Penny nagpapaalam pa kay Penny na yung butt nya tatama na kay Penny. Si Steve pinagmumura na kaming nag-suggest non, papatayin daw nya kami. Si Charline sigaw ng sigaw (to think di sya matatakutan pag rides sa mga amusement park ha!). Si Mands din sigaw ever! Kaloka talaga! We were trying real hard to hold on tas sumisigaw pa tas tawanan pa kami sa comments ng isa't isa! Hahahaha. No wonder we were so tired after! The P300 we paid for it was all worth it (pinaka-luxury item na namin yan dahil mas mahal pa sa tirahan namin at sa kinain namin). Kakaibang experience yon! Super enjoy talaga! For me, aside from it's the most expensive item we paid for, it was the highlight of the trip!
Gaya nung nagbanana boat kami super gutom din kami after. So we had our breakfast na. Tapos non liguan na ulit at pasalubong shopping na. Ang mura talaga ng bilihin don. Biruin mo the shirts were only for P85-P90. May libre pang anklet. No wonder dami kong nakikita na mga nakasuot ng Puerto Galera shirts dito sa Manila. I bought 2 shirts for myself, one for Joema and board shorts for him also. I also bought kikay earrings and necklace/bracelet beads. Look at me, Janice and Penny donning our Puerto Galera shirts for our trip back home. Di na nakapag-intay!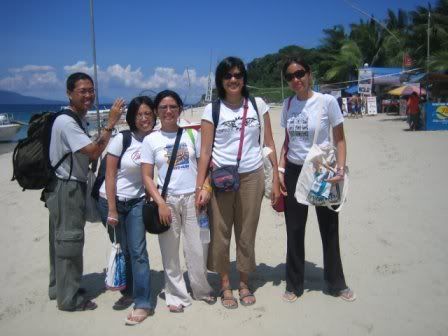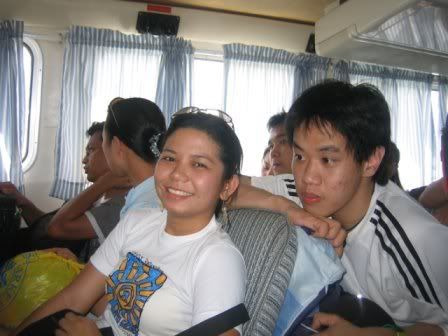 I really enjoyed our trip! Goodbye Galera! I'll see you soon! hehehe. And to Janice, Mands, Penny, Charline and Steve: the best talaga kayo! I wouldn't have enjoyed the trip that much if I didn't go there with you guys. Sabi ko nga kasi the beach was not that spectacular kaya sa water activities talaga enjoy. And dahil super game kayo lahat talagang super enjoy din naman! Till our next outing!